Genres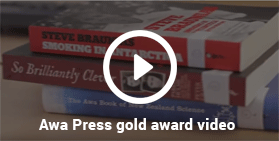 Kia ora. Welcome to our new website.
July 16th, 2017
Dear Book lover,
Having a visible presence on the internet is vital for a small independent publisher like Awa Press. It's here that booklovers from across the world can read about and buy books from our entire catalogue. It's here you can learn of coming opportunities to hear and meet our talented authors, people telling exciting New Zealand stories and enriching New Zealand's culture.
All our books are about real events and people, and some have changed the course of history. There's a lot of boosterism in the New Zealand publishing industry, but the truth is that, in an age where there are  a zillion new ways  to be entertained, books are struggling to pay their way. It costs as much to produce a high-quality book here as it does in places such as the US and UK, and yet the potential audience is tiny.
Since we launched Awa Press 13 years ago, we have seen one independent publisher after another go to the wall. We want to stay in business.  We're not begging you to buy our books – we don't need to as they are exceptional reads.  But next time you buy an imported book, why not add a New Zealand one and support one of our world-beating authors.
Mary Varnham, Editor-in-chief