Genres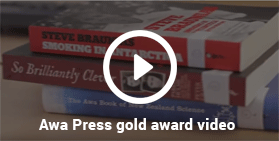 Publisher of the Best Contemporary Non-Fiction
Awa Press is an independent, innovative and wholly New Zealand-owned company. It was founded in 2003 to publish and promote the best of contemporary non-fiction by New Zealand and overseas authors.
Our name is derived from a Māori word meaning river or channel. We think of ourselves as the fount of a river of books.
We have two passions: one, of course, is books. We love books that are creative, imaginative, daring and accomplished. All the people who have written the books on our list are, to our way of thinking, heroes. Anyone who sits facing a blank page (or more often a screen), day after day, translating thoughts into words, deserves to become a millionaire. Most, though, will be lucky to make a few dollars. They write for another reason, love of words perhaps, or just the thrill of seeing someone reading their book on a bus.
And then there are the people who, through extraordinary alchemy, turn these writers' manuscripts into things of beauty – editors, designers, artists, typesetters, printers. The New Zealanders who do this work for us are second to none in the world.
Despite doom-saying, dire warnings, and the inexorable march of the reality TV show, the human race has continued to make a cup of tea and curl up with a good book. We hope you will curl up with ours.
Book proposals
From May 2022 we are accepting book proposals from our own authors only.
International
We are keenly interested in international co-publishing and rights sales.
Online presence
You will also find Awa Press online at YouTube, Twitter and Facebook. Follow us for all the latest news and information, available wherever you are.
Distribution worldwide
Awa Press books are distributed in New Zealand and Australia by Penguin Random House, and in the US, Canada and South America by Independent Publishing Group (IPG), Chicago. For more information, contact sales@awapress.com, or phone +64 4 471-1834. All our books are also available on Amazon and all other major online bookseller sites.
What our authors say about us
'You deserve every success. The attention to detail and cooperation with the writer has been first-class, and much better than any other experience I've had. Thanks for giving me the chance to write something that I think and hope will be remembered as some of my best writing.' – Spiro Zavos
'It's exciting to find a publishing company willing to put its money where its vision is, and sign up emerging writers. I've been delighted at how helpful and encouraging you have been during the book-writing process.' – Polly Greeks
'The Awa Press team's enthusiasm, enterprise and total professionalism make them a pleasure to work with.'  – Graeme Lay
'I cannot believe my good fortune to be part of the Awa Press family and their funky, fresh approach to non-fiction.' – Danielle Bowater