Genres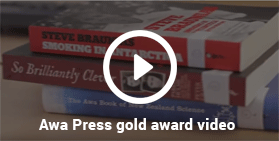 Your security and privacy
Safe shopping with Awa Press
The security of your personal information is very important to us. In our efforts to protect your online transactions, we use a technology called Secure Sockets Layer (SSL). If your browser is capable of SSL (and most are), your personal information will be automatically encrypted, or encoded, before it is sent over the Internet.
When you enter a secure portion of our site (which is any page requesting or containing any of your personal credit card information), an image of a closed lock or a solid key should appear in the bottom bar of your browser window. If you click on this image, a small popup window displaying site-security information will appear. This certificate guarantees that your personal information is being transmitted in secure (encrypted) form to our secure server, not to some unknown or unauthorized server..
Privacy policy
Awa Press is committed to respecting the privacy rights of our customers and all visitors to our web site. We take this matter very seriously, and can assure you that none of your privacy rights are ever violated.
Your information is used to process your orders and personalize your shopping experience. By storing your personal information, Awa Press is able to shorten your checkout process, allow you to check and personalise your shopping experience with us and send you periodic bulletins should you wish to receive them.
None of your information will ever be sold or passed on to other parties.