Genres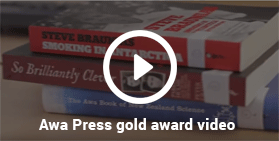 Authors
Bringing books and authors to you.
Awa Press maintains an exciting programme of author tours and appearances, bookstore visits and media engagements.
Want to attend a book launch, or book signing? Want to hear an author being interviewed on radio or television, or speaking at a public event? Check out their author page for more information.
Interested in the latest news about Awa Press books and authors? Click on Awa Press – News & Events.
To find out whether an author is available for an interview or public speaking engagement, email publicity@awapress.co.nz, or telephone us on (04) 471 1834.
---
Carey, Peter
---
Collins, Linda
---
Daniell, John
---
Dennett, Kelly
---
Earl, Lauren
---
Else, Anne
---
Flynn, Jim
---
Franklin, Craig
---
Fry, Roderick
---
Gilkison, Emma
---
Gill, Brian
---
Giuffre, Kathy